According to the CPWR, less than 30 people die every year due to aerial lift accidents and falls. Compared to other numbers, aerial lift accidents and falls don't happen very often.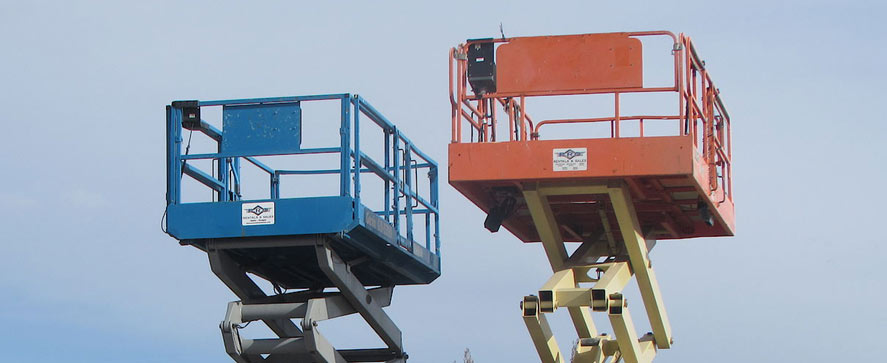 About The Scissor Lift
A scissor lift is an aerial platform model lift used for ceiling construction, sign hanging, among other maintenance projects. The scissor lift has a lower platform height compared to other aerial lift models; it only reaches about 20 – 50 feet. When used safely, scissor lifts can provide a safe and reliable work environment for employees to complete any project that involves heights.
Can I Use a Ladder on a Scissor Lift?
Absolutely not. Ladders should never be used on a scissor lift. Other things like buckets and stepstools also should never be used. As Premier Safety points out, a scissor lift is designed to reach specific heights, any additional heighteners are extremely unsafe. The same principles go along with climbing onto or using the guard rails to give you more height.
Working on a ladder in and of itself has its hazards. You can fall off a ladder from reaching too far, carrying items while you climb, or exceeding the ladder weight limits. A couple other hazards would include:
Standing on the very top rung
Placing the ladder on an uneven or unstable surface
Using a ladder that it worn or damaged
When working on an aerial lift, unless under special circumstances, employees will not usually be wearing fall protection equipment. Despite the height, the guardrails would protect anyone who is working on the lift safely. Standing on a ladder puts the worker at extreme risk of falling by placing them at a higher level than the guard rails. This makes is impossible for the rails to protect them.
In summary, it is not at all safe to use a ladder on a scissor lift. There are too many components that could cause an employee to fall. For more information you can take the Scissor Lift Safety Training course found on our Hard Hat Training Series website.